/
DOWNLOAD LINKS
Liebe Medienpartner:innen,
am 13. März 2023 um 18.00 Uhr ist es wieder soweit:
Das Team rund um Geschäftsführerin Sabine Gretner und Vizepräsidentin Desirée Treichl-Stürgkh sowie die Kinder von SUPERAR
laden zum Jahreskonzert ins Wiener Konzerthaus.
Lesen Sie mehr in untenstehender Pressinformation.
Hochauflösendes Bildmaterial sowie den Ankündigungsflyer finden Sie unter dem Bilder Link.
Wir dürfen Sie herzlich bitten, uns bei der Ankündigung für dieses wunderschöne Konzert zu unterstützen.
Die Einnahmen gehen 1:1 an SUPERAR, das Wiener Konzerthaus stellt seine Räumlichkeiten ebenfalls pro bono zur Verfügung!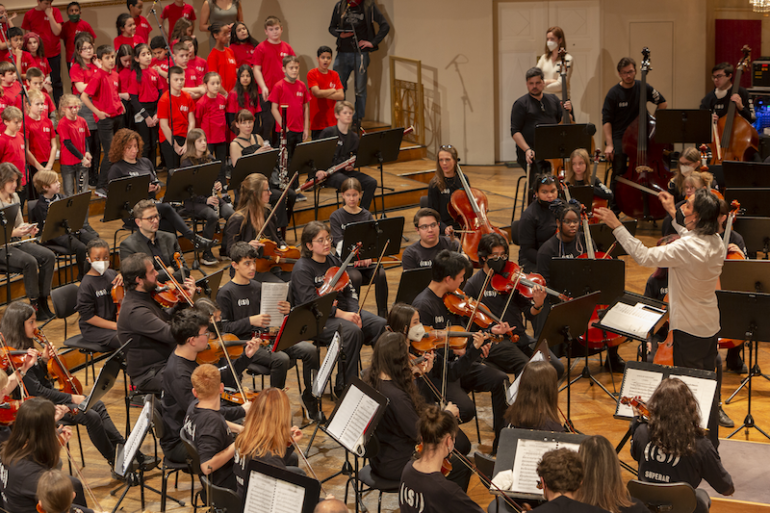 Presseinformation
Jahreskonzert SUPERAR, 13. März 2023, 18.00 Uhr, Wiener Konzerthaus
Das Jahresthema 2022/23 steht ganz unter dem Motto "Friede"
Das Thema 2023 reflektiert die Überzeugung, dass wir anhaltenden Frieden nur mit positiver Wertevermittlung, die gewaltfrei und friedensfordernd ist, erreichen können. Gewaltlosigkeit manifestiert sich durch Werte wie Achtung und Respekt füreinander, Gleichheit, Solidarität und gegenseitiges Vertrauen. In diesem Sinne spielt die Kunst als wortloser und gleichzeitig ausdrucksstarker Kommunikationsweg eine der wichtigsten Rollen für das Erreichen einer friedlichen Zukunft.
Das Repertoire besteht aus Vorschlägen der Superar Tutor:innen im In- und Ausland und vertritt die unterschiedlichen Kulturen und Herkünfte der an SUPERAR anvertrauten Kinder. Ein evokatives Lied über die Friedenstaube auf Ungarisch, ein hoffnungsvoller Kanon in vier Sprachen, ein Samba des Friedens, oder ein feuriges Orchesterstück in verschiedenen "Roma styles"; das Einstudieren dieser Stücke an sich bringt viel Freude in den Unterricht. Aber noch wichtiger: das gemeinsame Tun kreiert viele Chancen für formelle und vor allem informelle Gespräche über den Frieden, und wie wir ihn zusammen erreichen können.
"I offer you peace, I offer you love, I offer you friendship. I see your beauty, I hear your need. I feel your feelings. My wisdom flows from the highest Source, I salute that Source in you. Let us work together for unity and love." Mahatma Gandhi (aus "The peacemakers" by Jenkin)
Kurze Hintergrundinformation Superar:
Der Zugang zu den musikalischen Angeboten von Superar wird so einfach wie möglich gestaltet: Jedes Kind kann kostenlos teilnehmen; auch die jeweils benötigten Instrumente werden unentgeltlich zur Verfügung gestellt. Damit ist gewährleistet, dass alle jungen Teilnehmer*innen die gleichen Chancen haben. Somit steht einem barrierefreien Zutritt zur wunderbaren Welt der Musik nichts im Weg. Alle, die Musik fasziniert, sind bei Superar herzlich willkommen.
Superar wurde 2009 gemeinsam vom Wiener Konzerthaus, den Wiener Sängerknaben und der Caritas gegründet. Was damals mit 350 Kindern seinen Anfang nahm, ist heute auf mehr als begeisterte 3.500 Kinder in sieben Ländern herangewachsen. In Österreich, Ungarn, der Slowakei, Rumänien, Bosnien und Herzegowina, der Schweiz und Liechtenstein arbeiten professionelle Sängerinnen und Musikerinnen derzeit in rund 100 Schulklassen und kostenfreien Nachmittagskursen an der gemeinsamen musikalischen Ausbildung ihrer Schüler*innen. Die Zusammenarbeit der Standorte der verschiedenen Länder ist eng. Kinder von Superar treffen sich regelmäßig bei internationalen Austauschprojekten und Konzerten. Ihr musikalisches Repertoire ist dabei ihre gemeinsame Sprache.
Ein Highlight ist das jährlich stattfindende große Konzert im Wiener Konzerthaus, an dem Kinder aus den Schulklassen und den Nachmittagskursen von Superar mitwirken. Wer sein musikalisches Können stetig verbessert, will dieses auch unter Beweis stellen. Daher stehen die Kinder bei Superar von Beginn an gemeinsam auf der Bühne. Gerade in diesem Zusammenhang bieten die Gründerorganisationen Wiener Sängerknaben und Wiener Konzerthaus und renommierte Kooperationspartner wie die Wiener Staatsoper und das ORF-Radiosymphonieorchester eine unschätzbare Unterstützung.
Hardfacts & Kartenvorverkauf
Superar-Jahreskonzert 2023 "Friede"
Wann: 
13. März 2023, 18.00 Uhr
Wo:
Wiener Konzerthaus, Großer Saal
Ticketpreise:
Förderkarten: 58,- Euro
Normalpreis: 29,- Euro
Personen unter 27: 9,- Euro